Small Lap Quilt 3×4
Twelve of your nostalgic t-shirts will make up a beautiful lap quilt. All custom quilts are backed and bordered in color-coordinated fleece.  Finished 3×4 quilts measure approximately 48″ x 62″.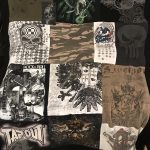 Luca's Memory Quilt
Additional Customization
Appliqués are an additional $5 per appliqué. Sashing can be added between squares for an additional $25.
The photos that appear on this site are samples only. Your finished product will be customized using your favorite t-shirts. Pricing may vary.
Theme Ideas