T-Shirt Pillow
Do your old t-shirts have fond memories attached to them?  By creating pillows out of your t-shirts, you can preserve those memories instead of keeping them hidden in your dresser.  Choose from various styles and sizes. T-shirt shaped pillows, square pillows trimmed in fleece or piping, or camp sized pillows from your favorite camp tee-shirts!!  Pillows are custom made from t-shirts provided by you.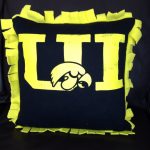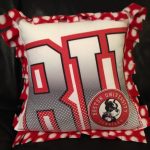 T-Shirt Pillow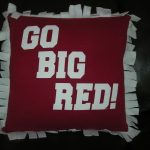 College T-Shirt Pillow
Additional Customization
Appliqués are an additional $5 per appliqué. Sashing can be added between squares for an additional $25.
The photos that appear on this site are samples only. Your finished product will be customized using your favorite t-shirts. Pricing may vary.
Theme Ideas